"Breastfeeding is an unequalled way of providing ideal food for the healthy growth and development of infants; it is also an integral part of the reproductive process with important implications for the health of mothers. As a global public health recommendation, infants should be exclusively breastfed
1
for the first six months of life to achieve optimal growth, development and health
2
. Thereafter, to meet their evolving nutritional requirements, infants should receive nutritionally adequate and safe complementary foods while breastfeeding continues for up to two years of age or beyond."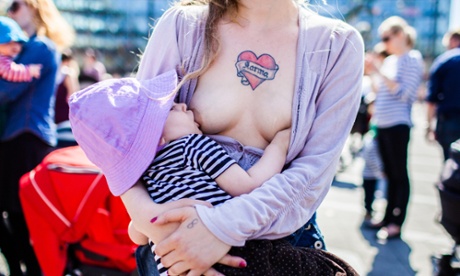 I can relate to the photo above. My little one nurses like this. The other hand must be "busy" doing something else.
But I guess these moments will soon be over. My little one, who used to dislike any milk from the bottle is now asking for it when we are about to take our morning nap. (Our naptime routine will not be complete without turning on AC, drinking milk from the bottle then watching videos or reading books.) She even asks for her bottled milk when she's hungry and doesn't like to eat.
Sigh.
I'm glad I was able to breastfeed her this long. I hope she eats more and healthier.
*Saw the photo from this article (it's a good read too):
http://www.theguardian.com/commentisfree/2013/jul/30/being-good-mother